THE QUIET REVOLUTION. PART TWO.
INTRODUCING THE 2024 GMC HUMMER EV SUV
2024 GMC Hummer EV SUV
The GMC HUMMER EV SUV completes the HUMMER EV family and features a 126.7-inch wheelbase for tight proportions and a maneuverable body, providing remarkable on- and off-road capability.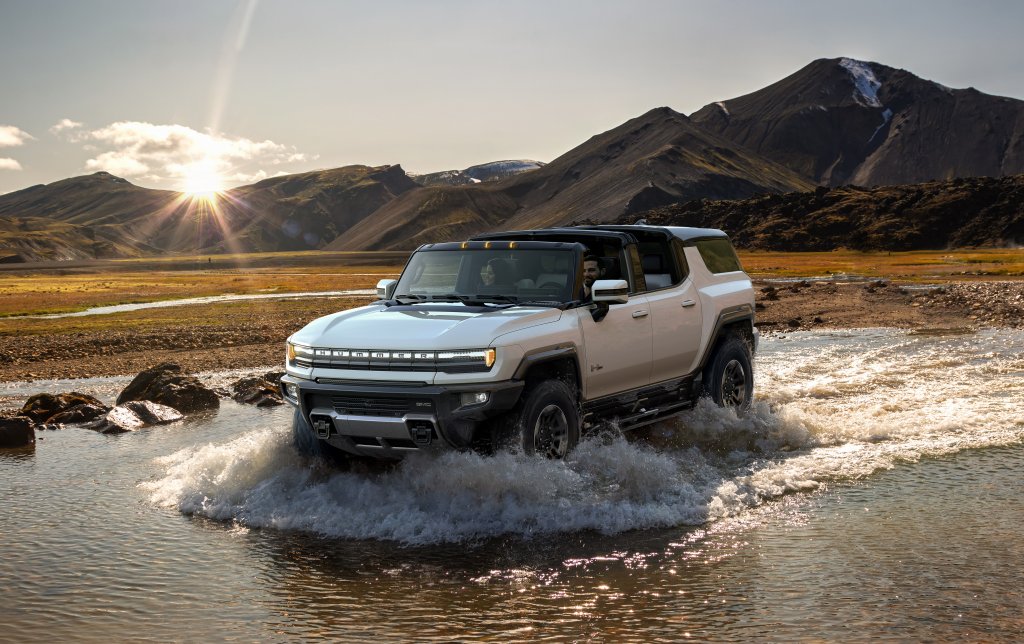 Extreme Off-Road Capability
off-road dominance is engineered into every aspect of HUMMER EV. Standard independent suspension in the front and rear will enable remarkable off-pavement handling and highway comfort, while available front e-locks and virtual rear lockers optimize traction.
Great Indoors
Like everything HUMMER EV, the cabin was designed for a unique combination of innovation and convenience. So no matter how rugged the great outdoors gets, inside HUMMER EV, you'll enjoy every moment.
Spacious Cargo Storage
The GMC HUMMER EV SUV debuts in the low-contrast Lunar Shadow interior and includes a spacious cargo area and an architecturally inspired cabin.
Available SuperCruise
The 2022 GMC Hummer EV will join the 2022 Chevrolet Bolt EUV as the first non-Cadillac GM product to offer Super Cruise.
The GM system includes automated highway lane-change assist, which allows the driver to change lanes on many highways just by activating the turn signal.
FAQ
Q: When is it available?
A: Initial availability in Canada for the HUMMER EV SUV is scheduled to arrive in early 2023.
Q: How do I order?
A: For updates and information on vehicle availability please contact our team at Wolfe Calgary to find out about reserving your Hummer EV with a deposit.
Q: What is the horsepower?
A: Up to 850 HP on HUMMER EV SUV.
Q: What is the torque?
A: Up to 11,500 LB-FT. of Torque.
Q: What is the range?
A: GM Estimated driving range of up to 482+ Kilometers available on SUV.
Q: How big is the touchscreen display?
A: The high-definition screens include the 12.3" diagonal colour Driver Information Centre display and the centre-mounted 13.4" diagonal colour touch-screen position put customizable data, settings and controls within the driver's convenient reach and optimal line of sight.
Q:What is CrabWalk on SUV?
A: CrabWalk is a revolutionary available setting utilizing HUMMER EV's available 4-wheel Steer (its rear wheels can turn up to 10 degrees in either direction) to drive diagonally at low speeds, helping it to traverse tight trails with a capability that no other competitive SUV is expected to offer.
Q: What is the Infinity Roof with Modular Sky Panels?
A: The industry-leading Infinity Roof and availability Transparent Sky Panels create an immersive open-air experience. Let the world in by removing the four roof panels and the front I-Bar and lowering the power Rear Drop Glass.
Q: What are the transparent sky panels?
A: See the sky without even removing the modular panels with the Transparent Sky Panels. They're tinted to deflect the sun and help protect you from the elements while providing breathtaking panoramic views.